Meet the house sitters!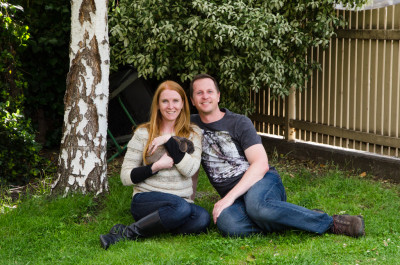 We thought it would be a good time to introduce you to some of our house sitting locals...after all, House Sitting Tasmania is all about keeping it local! Meet Karen & Andrew, who we've shown them the house sitting ways. Very proud of them!
Why did you consider house sitting?
House sitting used to be one of those things that we'd been watching with interest for some time before taking the plunge ourselves. Abby, our faithful German Shepherd had passed away the year before and we realised that house sitting could provides us with the opportunity to not only get our 'pet fix', but to also save us a lot of money and help us pay off our mortgage.
Umming and aahing, it was our decision to move to Europe in late 2016 that finally tipped us over the edge. The house sitting opportunities across Europe are extensive, and the potential savings in accommodation are significant. House sitting also clearly suited our slower style of travel, and would allow us to live like a local and see parts of Europe that are off the tourist trail. Building a solid list of house sitting references in Tasmanian beforehand would go a long way towards helping us making our move to Europe a much more realistic, and authentic experience!
What do you enjoy most about it?
House sitting has certainly satisfied our need for pets. Dogs, cats, fish, sheep, ducks, guinea pigs and rabbits...we've seem them all and we love it!
On the other hand, in our spare time we've always enjoyed trying new restaurants across Hobart and Tasmania and blogging our thoughts at Two Clowns Tripping. House sitting has given us the incredible opportunity to explore all sorts of interesting suburbs and regions that we previously would have driven straight through. As a result, we've found an unbelievable number of new and exciting suburban cafes and restaurants to share with our readers.
Where have you been so far?
Our house sitting locations have been quite varied so far, starting at the gorgeous Clifton Beach, to Kingston in the south (great views of Mt Wellington!), Bridgewater in the north, and a number of houses around Moonah, Lenah Valley and North Hobart.
Have you got a funny story you can share with us, or perhaps something peculiar you have experienced along the way?
House sitting can result in some pretty random experiences! On only our second house sit we were woken up in the wee hours of the morning by one very determined little terrier who had jumped up onto the bed, scooted under the doona and made herself very comfortable at waist level! Who needs an electric blanket when you've got a super friendly Cairn Terrier in the house?!
We also found ourselves needing to put our thinking caps on recently when one of the sheep we were looking after managed to pull a Houdini and escape her enclosure in the middle of the night! Some super sleuthing and an afternoon of spying on its movements resulted in us working out the escape route. A little bit of handiwork with a half dozen plastic ties and the well-disguised gap in the fence was closed, much to our relief!
Have you developed new friendships, or broadened your networks since house sitting?
It's been fantastic getting to know Rach and Shaun from House Sitting Tasmania. They coordinate the whole process very professionally, but are really friendly and willing to support their house sitters wherever necessary.
One of the little 'extras' that we offer as a house sitting couple is a free portfolio of high quality photographs of the pets that we look after. It's been great seeing the response from the many home owners that we've met and it's resulted in us building a more personal and friendly connection than if we limited our interactions to the house sitting only.
Would you recommend others to start house sitting, what would be your message to them?
We'd definitely recommend the house sitting lifestyle!
However, it's really important to realise that it isn't a holiday at someone else's expense.
The responsibility of looking after someone's home and their beloved pets is significant, and you need to ensure that everything is in better condition at the end of the house sit than when you first started. Clear and regular communication is critical in keeping homeowners up to date and reassured that everything is under control.
You also need to be flexible, reliable and adaptable, as plans can and do change at the last minute.
At the same time, you'll have a ball! The crazy pets will keep you entertained for hours, and the various locations are always throwing up new experiences and adventures in you've got an open mind.
We don't regret it for an instant!